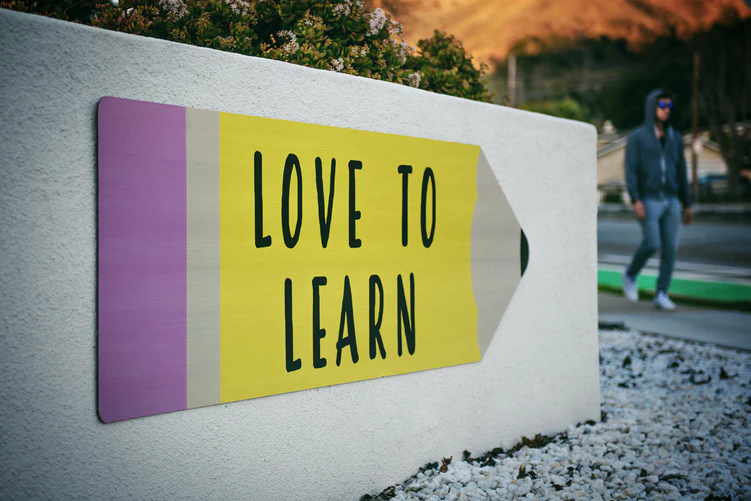 What is CompTIA A+ certification? This is a simple question. CompTIA A+ validates the understanding of the most common hardware and software technologies in the business and validates the skills required to support complex IT infrastructures. If you ask how to learn the CompTIA A+ certification exam and help you pass the exam, it is not easy. Today I'm going to talk about how to study for the CompTIA A+ exam, focusing on CompTIA 220-1001 and CompTIA 220-1002. Well, a guide for the latest CompTIA A+ exam.
The Basics information: CompTIA A+
Why do we need certification in the first place? CompTIA A+ is a powerful certificate that helps IT professionals ignite their IT careers.
CompTIA A+ certification: Pass two exams: Core 1 (220-1001) and Core 2 (220-1002)
The following is the latest content:
Demonstrate baseline security skills for IT support professionals
Configure device operating systems, including Windows, Mac, Linux, Chrome OS, Android and iOS and administer client-based as well as cloud-based (SaaS) software
Troubleshoot and problem solve core service and support challenges while applying best practices for documentation, change management, and scripting
Support basic IT infrastructure and networking
Configure and support PC, mobile and IoT device hardware
Implement basic data backup and recovery methods and apply data storage and management best practices
(From Official CompTIA Content.)
I believe that as long as you are familiar with exam skills, this will be very helpful for your exam.
CompTIA A+220-1001 covers mobile devices, network technology, hardware, virtualization and cloud computing, and network troubleshooting.
CompTIA A+220-1002 covers the installation and configuration of the operating system, extended security, software troubleshooting, and operating procedures.
Help be ready for the exam
For some people, it may be a novice or someone who has been preparing for a while! It's fine! From now on, they can harvest a better choice for them to learn here. I spent a lot of time compiling a lot of useful exam information so that you can easily prepare for your A+ certification exam.
Mainly explain the usage and learning methods of the two exams, of course, including the method of passing the exam. Focus on the details of the exam, you need to pay special attention:
You must complete 220-1001 and 220-1002 at the same time to get the certificate. The exam cannot be combined with the entire series.
No more than 90 questions in the exam. Test time 90 minutes.
Question type: Multiple choice questions (single and multiple response), drag and drops and performance-based.
Passing Score: 220-1001:675(100-900), 220-1002:700(100-900)
Free CompTIA A+ certification practice tests (seriously!)
Help you get free CompTIA 220-1001, CompTIA 220-1002 practice tests.
Share free CompTIA 220-1001 practice test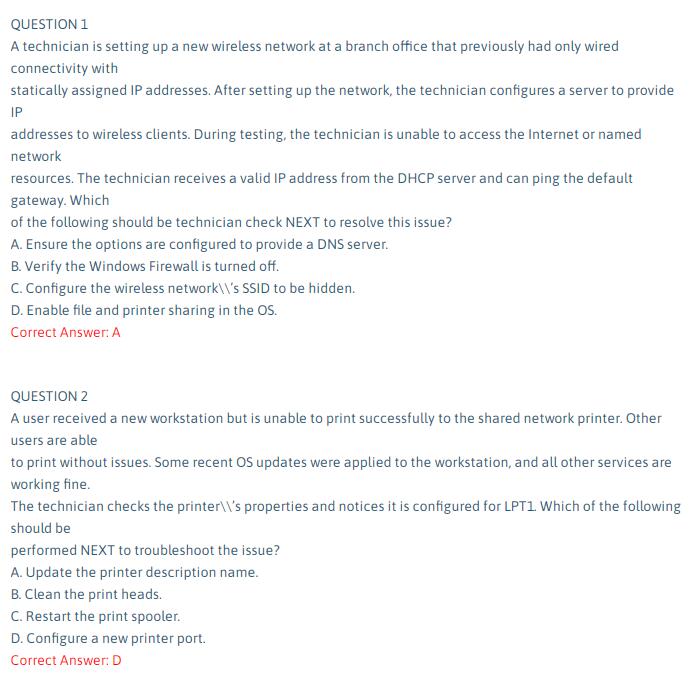 More, click on the picture to view.
Share free CompTIA 220-1002 practice test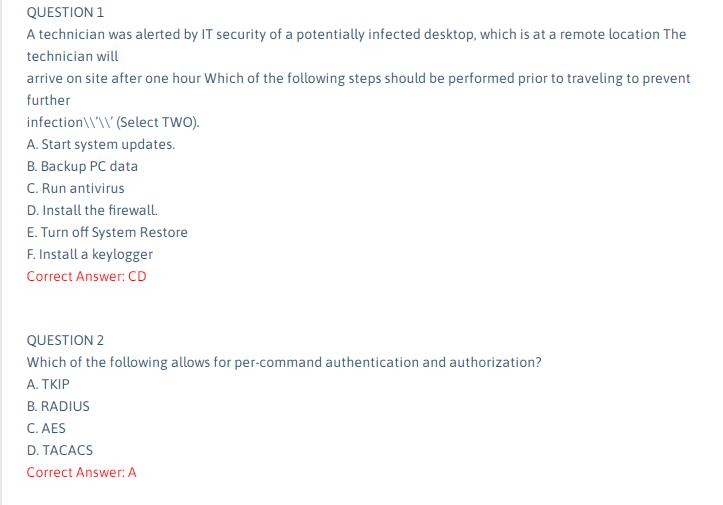 More, click on the picture to view.
PS:
Stop tI don't want to describe too many details, my purpose is to tell you how to learn to get CompTIA A+ certification. Check the above introduction carefully, I believe you will gain a lot, I hope you will tell me "I got my A+ and it is the best thing I ever did." Good luck, goodbye!